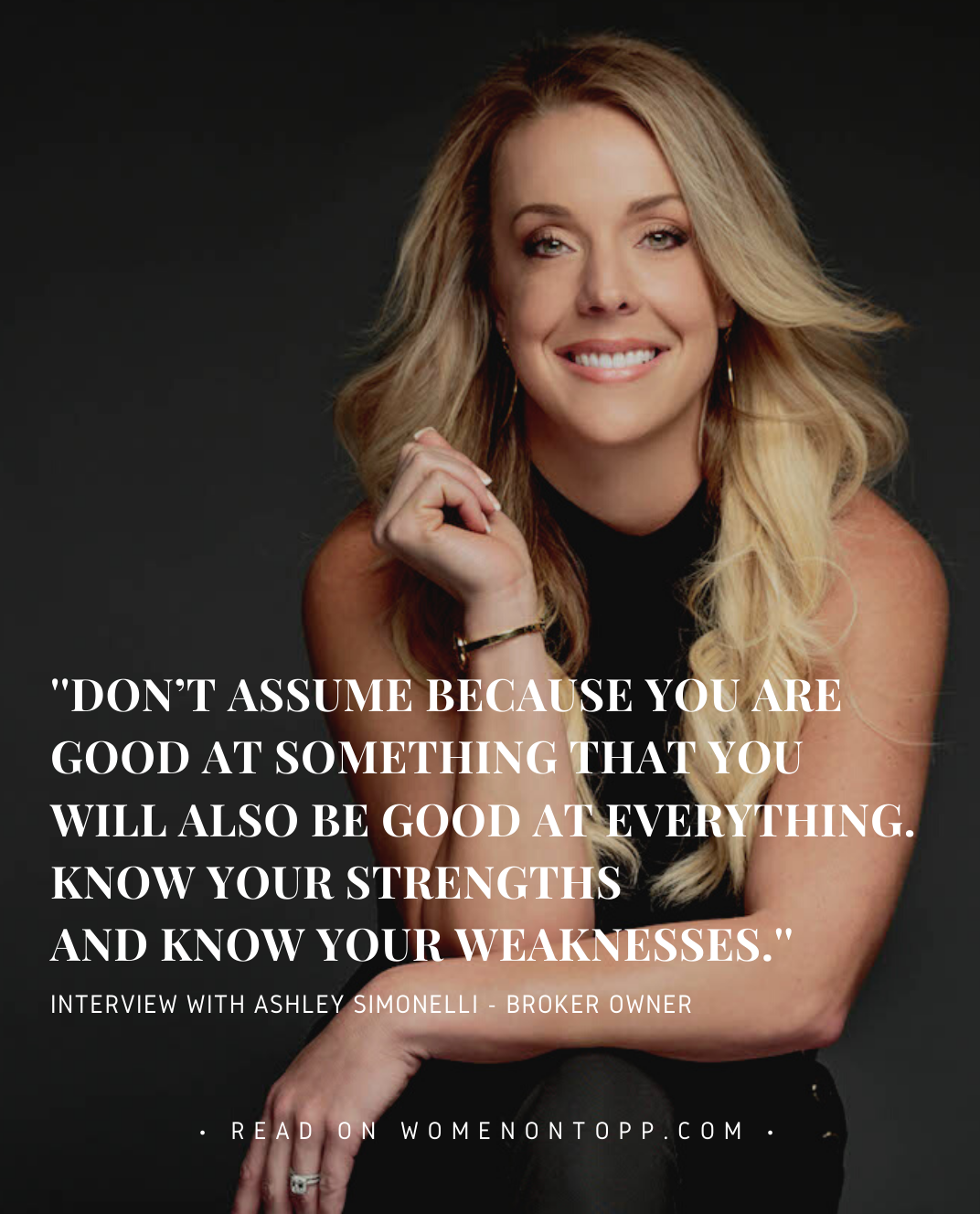 Real estate is one of the best careers for women who want to create their own destiny. It's one of those careers where you can be your own boss, set your own hours and see the rewards of all your work. Make no mistake though; it's a lot of work. In today's interview a woman in Real Estate could tell you all about that. From staying up late at the dining room table to find new clients, or researching all the data on a listing to know its true worth — this woman has never backed down from a challenge.
Meet Ashley Simonelli, founder and owner of Royal Palm Property Management, a residential property firm that believes in honesty and reliability. Royal Palm Property Management is more than just sales people. They are actual investors who want to see you thrive. Royal Palm Property Management provides top-tier management services for clients big and small who are looking to achieve financial freedom.
With over 10 years of Property Management experience Ashley brings extensive experience to managing properties and provides her clients with accountability, flexibility and service. Primarily, she serves as a liaison between the tenants, vendors, and property owners, making sure the property operates efficiently and provides a maximized return for the owner. Her experience includes Portfolio Management specializing in Multi-Family Residential and Commercial Management specializing in Apartment Communities.
Ashley is a graduate from Hodges University where she obtained her Bachelor's Degree majoring in Business with a minor in marketing. She is also a licensed Real Estate Broker and has assisted her investor with many sales transactions as well.
Need some inspiration on how to carve out the future you want in real estate? Look no further.
1. In your own words, what do you do?
I am the Owner and Broker of Royal Palm Property Management and The Simonelli Real Estate Group. We offer full-service solutions for both Real Estate and Property Management. I will help you buy, sell, and manage investment property in and around the Southwest Florida area. I bring industry-wide resources and best practices to our local properties, providing investors with the most innovative solutions to maximize your ROI.
2. What inspired you to start in real estate and how did you motivate yourself to keep going?
I have always been a self starter with dreams of being successful. I am the first one in and the last one out type. When I was in the corporate world I was constantly called out for being too assertive or too direct. I have always been very to the point which I attribute to getting things done. (Had I been a man, I don't think this would have been an issue) After the crash in 2008 I was let go from a corporate position. It's one of the greatest things that has happened to me! Leaving corporate and stumbling into the world of residential real estate and property management, I quickly knew this was where I was supposed to be. I was able to make as much as I was willing to work for and finally, my assertiveness was appreciated.
3. What is the best advice you have ever received?
Some of the best advice I have ever received was from the first Broker I ever worked for and that was "show up when everyone else is taking off and answer your phone." As crazy as it sounds, a lot of brokers and agents are hard to get a hold of. I make sure this is not a problem our clients have to deal with. This looks different now that we have grown so much. It's not the same as it was when it was just me and I knew every property and client by heart. With a team of 10 and growing we have had to really make a conscious effort implementing systems and policies to make sure that our clients never worry about what's happening at their property. They are able to reach us 24/7 and will always receive a response the same day.
4. Share two pieces of advice for female entrepreneurs.
Hire the coach / consultant. Don't assume because you are good at something that you will also be good at everything. Know your strengths and know your weaknesses. Keep learning and become the go to expert in your field. The key to growth, innovation and success is knowledge.
Say NO. If a client or an opportunity doesn't feel right for you, don't be afraid to say no. Loading yourself down with work that will not help you obtain your goals will make it take that much longer to get there.
In the words of Sarah Silverman, 'be undeniable' and then no one can stop you."
5. What do you consider the main differences between those people who have been successful in your industry and those who have failed?
Hard work, consistency and A-LOT of Sacrifice. It sounds easy enough but when it comes down to it, not everyone is willing to do whatever it takes. As a Broker I often hear from new agents that they decided to get their license so they could have a flexible schedule. The reality is that to be successful you will have to put in a lot of hard work. Many days I am working every single minute that my eyes are open. The choice is yours. The only person who owes you anything is you. Take ownership of your life; you owe it to yourself.
6. What has been your key (or keys) to success?
Our success really comes down to a secret that shouldn't be so much of a secret – we care. We genuinely care for our tenants, we care about our investors and we diligently care for their properties. We treat every property and every transaction as if it were our own. We are committed to serving with words that are substantiated by our actions.
7. What's Your Approach To Marketing?
Reputation. Reputation. Reputation. I do not spend a ton of money on marketing, instead, I focus on improving our clients' experience. I have focused on taking a proactive approach to finding areas within our service that have opportunity for improvement. We place a strong focus on customer feedback to allow us the opportunity to improve in those areas continuously.
8. What are you passionate about?
I am a very passionate person. I tend to bring passion to whatever I am engaged in. I love taking an ugly duckling property and rehabbing it into the beautiful swan I know it can be. I love taking a distressed property and making it income producing. I love helping my agents to grow and develop their business. I love helping my team reach their personal goals. I LOVE helping my community in any way possible and Real Estate provides me with the resources and freedom to do that. Most of all I am passionate about being a trusted name in the industry in a time when people need it the most.
9. What are the mistakes people make while running a new business?
Assuming you will be a great business owner because you are great at a trade I believe to be a common misconception for new business owners. Just because you are a great REALTOR doesn't mean that you're automatically great at operating a business. Some of us learn this the hard way! Invest in developing that skill early on and it will be a much smoother process.
10. What should other real estate entrepreneurs reading this be focusing on to expand their own business?
Whether an agent, broker or in between, treat yourself as the business that you are. Develop a business plan, invest in a CRM early on, leverage technology and most importantly, be all in. To be successful, real estate is a full time (Sometimes double that) commitment. Our industry needs more great agents who are ALL IN and operate with integrity above all else.
Source: https://www.womenontopp.com/interview-with-ashley-simonelli-broker-owner/